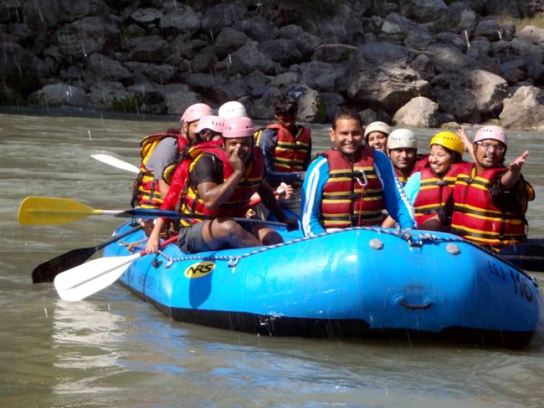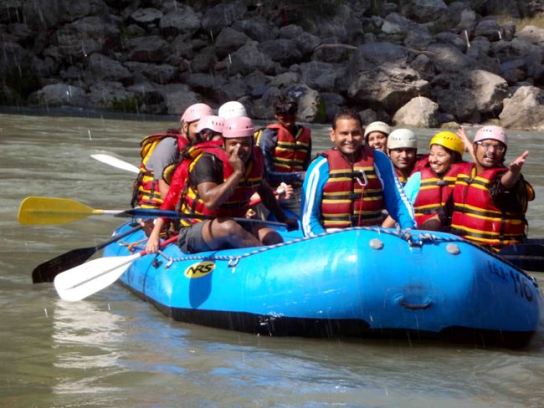 Rishikesh has recognized itself as the most favored places in India for white water rafting. Rafting in Rishikesh, certainly, the most exciting adventure activity in India. Rafting in Rishikesh, Enjoy camping out in the nature as piece of your weekend rafting camp in Rishikesh.
White water rafting has grow to be identity of Rishikesh though Rishikesh is an important pilgrim centre set on the precise bank of holy river Ganga, Rishikesh is bounded by Shivalik Ranges on three sides and is the starting point for Char Dham Yatra, But now days Rafting in Rishikesh has become a popular centre of white water rafting in North India.

River Rafting Packages in Rishikesh
Rafting in Rishikesh is mainly practiced in the upper reaches of the wild and white water, hitting white water such as The Wall, Cross Fire, Black Money and Three shade Mice. If you are a good rafter, you ought to try your luck with some of the most exciting rapids that pose a serious challenge – Roller-Coaster, Golf Course, Return to Sender and Club House.
The best season for white river rafting in Rishikesh is from September to December and from March to July. At Weekend Rafting Camp Rishikesh, we offer you with top nick, modern tools that will make your rafting experience more suitable and safe. We use only famous rafts and have invested in many new wetsuits and lifejackets for this season, especially for youth sizes. The other tools made available are life jackets, protection helmets, rainproof dry bags, as well as camping gear like spectacles and antibacterial cream.
Each members of the rafting team are given a complete safety update at the start of the trip. They are given an near into what is to be expected and what ought to be done if something goes wrong. In core, your safety is paramount for us and we leave no stone unturned in ensuring the same at the top level possible.

River Rafting Packages in Rishikesh