Rishikesh has predominantly four seasons :
Spring (March – April)
Summer (May – June)
Monsoon (July – Sep.)
Winter (Oct.- Feb.)
Rishikesh Rafting Camp is an luxury river rafting camp and is only camping in Rishikesh area which is located right on river Ganges .If you think in living life to the fullest, Rishikesh is the situate you must visit and enjoy the thrill of camping and rafting in Rishikesh. During Camping in Rishikesh you find manually in still lap of Mother Nature far Away from everyday of daily tasks of life. Situated along stunning bank of the River Haul, Weekend camp Rishikesh is the best choice for you. At Rishikesh rafting camps journey and joy comes joined with comfort and luxury which you will experience in delicious food, exciting camp fire and appointment with the sound of music created by Nature.
Camping in Rishikesh on the Ganga beach present an environment to wake up with the birds cheer chew and can swim in the fresh water of the river Ganges. Camping in Rishikesh is a very good sport activity.
We suggest on order different kind of behavior in our camps such as – rafting, village encounter, and forest walks (Trekking), rock climbing, rappelling, bird watching, star gazing, beach volleyball, Yoga, we have experienced staff for all type of services. Rishikesh rafting camp are located at the bank of River Ganga (Beach Camps) and Forest Locations (Jungle Camps). Camping in Rishikesh will surely invigorate your senses.
It can be the best way to take a break from the daily regular life and spend some liberal moments in the lapse of nature. Rishikesh is blessed with beautiful natural landscapes; you need to spend some intimate time out in the nature to truly fathom the experience. Camping in Rishikesh is a union of adventure and fun. You can select for the type of camping according to your preference.
CAMP LOCATION :
The Weekend island Camp is located in Shivpuri and is 15 Kms from Rishikesh on the Badrinath highway. About 300 meters the Shivpuri Bridge.
CAMP FACILITIES :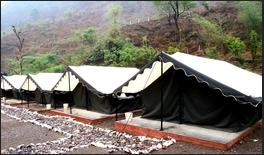 Stay in tents with proper bedding
Neat and hygienic Indian/western toilets with flush and running water
All buffet meals in a large dining area
Electricity with power backup/Inverter facility