Kaudiyala River Rafting Package in Rishikesh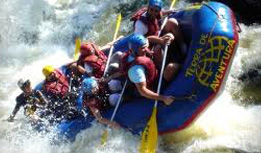 Kaudiyala is a small village and its located in between Rishikesh Uttarakhand
– Srinagar, Badrinath highway. Kaudiyala in beautiful location and located 380 m high of sea level nearby Rishikesh. Kaudiyala is perfect place for White Water Rafting, one can have looks of hills with roaring sound of famous rafting rapid The Danies Dip, Three Blind Mice, THA WALL. Kaudiyala is an ideal Destination. Some small dhabas & shops, Motor Mechanic are available here.
Kaudiyala White water rafting is a good sport practiced here. Kaudiyala is rafter's paradise and grade 4 + Rapid The Wall comes between Kaudiayal to Marine Drive and Shivpuri. We offer Beach/ Riverside Camp White Water River Rafting on Banks of Alaknanda River Ganga Rishikesh Uttarakhand India.
Kaudiyala River Rafting Package in Rishikesh
Kaudiyala is grade 4 plus river rafting strach in rishikesh. River Rafting strach 34 kms Kaudiyala to Rishikesh. Popular Rapid name in marine drive rafting strach Roller Coaster, Golf Course, Club house, Initiation, Double Trouble, Hilton, Terminator, Three Blind Mice, The Wall and Crossfire. Best time for this rafting strach September to April.
Copyright © 2019 www.rishikeshraftingcamp.com All Rights Reserved. Designed & Developed By