Rishikesh in Winters
India is such a country where you have different rivers and different time seasons for rafting, some rivers even get froze, or some do not have current in many seasons. And now you all must be wondering if there could be a place where you could raft this winters and delight your vacations, a place where you could always dwell in as your home throughout the year irrespective of the weather and climate. And yes! there is. Raft this season at Rishikesh with most popular river of Inida and world attracting river Ganges. Rishikesh is a town located in the state of Uttarakhand, beside the holy river is now a home for all new generation activity, holidaying and adventurism.
The river Ganges is cleanest during the winters and not so cold due to the low melting of glacier, although the rafting season in Rishikesh starts from mid September (after the monsoons end) and goes on till June mid, before the monsoons start. Another reason why Rishikesh is best for rafting is the town is never chilly even in the coldest of winters, and the town is surrounded by beautiful unpolluted hills. The town has a enjoyable climate for many months of the year. As its location is in the hilly topography, the climate never becomes extreme type. Thus Rishikesh is one such tourist spot that can be visited any time of the year for different activities and off course it's spiritualism! For which it's famous for.
Rishikesh in Winters
Rishikesh is a very sacred place for Hindus, the gates for higher spiritual centers like char dham and Hemkund sahib are opened from Rishikesh, so it's similar to what Mecca is for Muslims. Rishikesh is full with lots of Ashrams, from Swami Vivekananda to Osho, which impart different types of Yogas, as the adventurous and spiritual milieu is very well suited to the yoga. In Rishikesh you are going to find something for every age group.
Apart from mythological taste in the your trip, if you want to enjoy lots of wild adventure, Weekend Rafting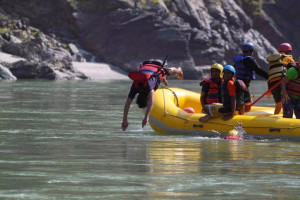 Camp Rishikesh is never going to disappoint you, you can start with rafting, camping, bungee jumping, paint ball to which climate is never a bar, when it comes to temperature, in winters average temperature during day time could be 14 degree' C but in night it might further drop to 7-8 'C, warm clothing is very much necessary during this phase, which makes winters very perfect time to holiday at this place.
Rishikesh in Winters
So there is not a single point to shelf this tour, you can customize your trip with us along with some winter discounts, as rafting in winters is not going to be very crowded, you will get the whole Ganges to raft!

Help us to make your this winter adventure and sightseeing memorable, please click on the link below and register before the world does!